When selling your home, it can be highly advantageous to have an agent working on your behalf. Mountain Home Properties provides an extensive marketing program for each one of our listings, customizing each to best position individual properties in the market. We advertise in a wide range of print publications (view examples), in addition to maintaining an optimized, engaging web presence.
When you list with one of our agents, rest assured that your property will never be lost in the crowd. You will receive periodic updates detailing all marketing done for your property, and feedback and recommendations after showings.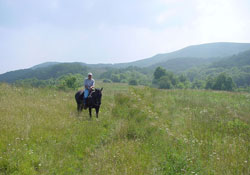 Your agent can also help you in getting your home ready to sell. A few simple touches or a fresh paint job can do wonders for the appeal (and final selling price) of a home, and your agent can advise you on the best places to spend your money for the best return on your investment.
After an offer has been presented, your agent can advise you and negotiate on your behalf, protecting your interests and helping you to achieve your goals in the transaction.