Waynesville, North Carolina is the oldest town in Haywood County and serves as the county seat. People have flocked to Waynesville for centuries because of its impeccable location in the mountains which provides cool, crisp air and beautiful landscapes. Waynesville is located southwest of Asheville between the Blue Ridge and Great Smokey Mountains.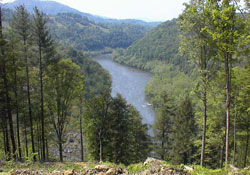 Waynesville, North Carolina is rich in history and culture. There are six different neighborhoods in the region, and each offers something a little different. The "Downtown" area is the main retail business center of the town and is home to art galleries, restaurants, shops, banks, doctors and government buildings . The "Frog Level" is the historical district of Waynesville and was named for the area being susceptible to floods. However, the revitalization of the downtown area is now moving towards this part of the town and revamping its once run down image. "Hazelwood" was annexed by Waynesville in 1995 due to financial troubles. "Laurel Ridge" is a neighborhood in Waynesville named after the Laurel Ridge Country Club located here. Laurel Ridge is a golf course community also featuring a pool, tennis courts and magnificent mountain homes. "West Waynesville" was once the industrial part of town that has since been replaced. However, plans are in the works to tear down the vacant plant that exists here and build a large shopping center. "Russ Avenue" is Waynesville's last neighborhood and is known as the newer business district. This area features restaurants, retail stores, car dealerships, banks and much more. Russ Avenue is the most traveled street in Haywood County for residents and visitors.
With a winning combination of history, southern hospitality, and small town mountain charm, Waynesville is a great place to live. If you are interested in Waynesville, North Carolina real estate be sure to contact Mountain Home Properties. Our experienced and knowledgeable realtors will help make your mountain real estate dreams a reality.