Haywood County has a very desirable climate at all times during the year. The weather in Haywood, like most parts of Western North Carolina, is very mild and allows for four distinct seasons to occur. The average elevation of Haywood County is 3,600 feet above sea level and is believed to be the highest point east of the Rocky Mountains.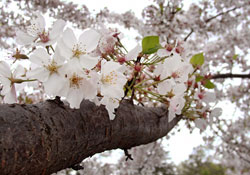 The weather in Haywood County allows for a wide variety of activities to take place during different seasons. The summer month's temperatures are perfect for water activities such as swimming, jumping off waterfalls or kayaking. The fall months are filled with crisp, clean air. This time of year is perfect for outside activities such as hiking and backpacking in the Appalachian Mountains. The winters bring along beautiful snowfalls, averaging 12.5 inches per year. This allows for winter sports like skiing, snowboarding, sledding, and snow tubing. The spring is perfect for being outdoors in the sunshine enjoying fishing and hiking.
Haywood County is an ideal spot to escape the sweltering heat in the summers, while the winters have just enough cold snowy weather to turn the mountains into a winter wonderland. The spring and fall are times to really enjoy the cool, crisp air. There aren't many places where you can watch the seasons change right before your eyes!